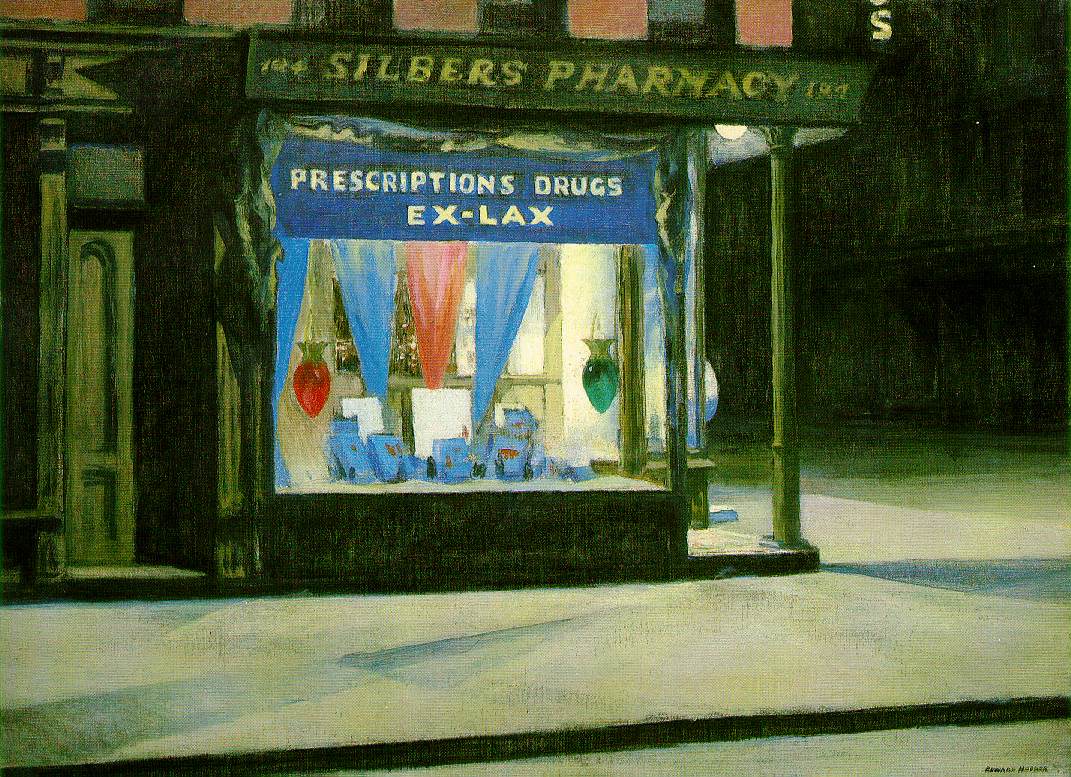 Drug Store by Edward Hopper (via Artchive)
It's been ages since I've decided to post some tidbits that have caught my attention. So why not do it now that I've been feeling very crappy since last night. (Take a good look at the above image and you'll catch my drift).
And away we go!
* A phenomenal essay from Slate on Edward Hopper, my favorite artist. Bonus points for the brief examination of my favorite painting of his (Automat), which was ingenuously used for this 1995 TIME magazine cover.

* There is really only one candidate who should be considered for the vacancy of the USMNT and that decision should be made ASAP. Hire Bob Bradley now!
* For a split-second I thought about taking an acquaintance to one of the eateries on this list. However, the gentleman side of my brain quickly kicked in and vanquished the frugal section of my mind. (Hat tip: Newyorkology).
* Intriguing article of the "return" of girl groups. The Pipettes are a lovely bunch of saccharine goodness but methinks I'll stick to Velocity Girl, thank you. (Hat tip: largehearted boy).
* Hamburger heaven: take the Q44 bus for lunch at to Joe's Best Burger, then transfer onto the Q20A for early dinner at Five Guys.
* You learn something new every day.
* Mark Kulkis- exploiting racism or marketing genius?
* No thanks.
* Yes it would be fantastic if Reno 911! could go beyond a fifth season, but I'm afraid I'll agree with Mary Birdsong's quote in this short article.
* Freddy Rincon- from futbol glory to a possible stint in Panamanian prison.
* Lastly, I really miss Nirmala when she was with Controller.Controller (aside from the fact that she vaguely looks like an ex from eons ago). In the meantime, I'll have to suffice with vids like these:
"And in your sheets!"